Vigor is used as energy for Arena battles.Maximum vigor is 20. Each vigor regenerate in 30 minutes (previously 1 hour).
Consumption
Edit
2 vigors will be consumed for each battle. 1 vigor will be consumed in a revenge battle.
Add Vigor
Edit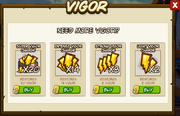 There are many ways on gaining vigor. Here are some ways of doing so:
Wait until it regenerates.
Leveling up makes the vigor bar full again.
Player gets 1 light vigor charge daily when completing Daily Quest.