Gold is an in-game currency of MyNinja.
Gold is used to buy premium items like armors or weapons, buying skill components, toad tokens, ramen and many others.
Ways to obtain
Edit
1) Buy it! - Use Facebook Credits to buy gold. Simply click the 'Add Gold & Coins' tab above MyNinja.

2) Level Up - Upon leveling up each level, player receives 1 gold.
3) Bizarre Bazaar - Get Gold Chest from the Bizarre Bazaar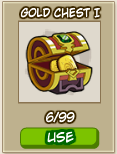 Ad blocker interference detected!
Wikia is a free-to-use site that makes money from advertising. We have a modified experience for viewers using ad blockers

Wikia is not accessible if you've made further modifications. Remove the custom ad blocker rule(s) and the page will load as expected.